Melissa Kelly
Chief Transformation Officer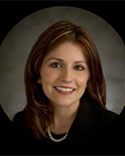 Melissa Kelly
Back to Executive Profiles
Melissa Kelly joins Annie's as our first Chief Transformation Officer. Throughout her career, Melissa has been focused on digital transformation across all types of retail organizations. She has held digital transformation leadership positions at Aldi, Sears, FTD, and others across the full front end customer lifecycle and journey.
Melissa carries a growth mindset and believes that while marketing and IT are ground zero for digital transformation, it takes the entire organization transforming to drive success. Her mission for Annie's is to foster a growth mindset across teams and functions, transform the ways of working, and implement a new data driven future for the organization.
Melissa and her husband, Tim, have recently moved from Chicago back to their hometown in the Tampa Bay Area. They are the parents of three daughters.