Tony Pytlak
SFG President/COO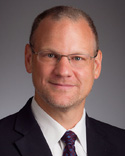 Tony Pytlak
Back to Executive Profiles
Tony Pytlak is president and chief operating officer for SFG. He took on this role in November 2006.
Pytlak has held a number of key positions in the direct marketing field. Most recently, he worked for General Electric in Chicago, where he was vice president of marketing analytics and research for GE's Partnership Marketing Group.
Prior to that, he worked for several years with Reiman Publications. He held various positions while at Reiman, including director of E-commerce and leader of the database marketing and analysis team. Ultimately, he became vice president of business development and database marketing.
He began his career in the Chicago area, where he worked for Grainger, a Fortune 500 business-to-business marketer.
Pytlak holds a master's degree in applied mathematics from DePaul University in Chicago.