Tyler Kitt
DRG Group CEO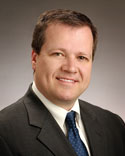 Tyler Kitt
Back to Executive Profiles
Tyler Kitt is co-owner with the Muselman family and chief executive officer of EP Graphics, the printing company. He serves as DRG treasurer.
Kitt graduated with a bachelor's degree in accounting from Manchester College in 1984 and passed the CPA exam in 1985. In 2004, he received his master's degree in business administration from Taylor University Fort Wayne.
He began his relationship with the Muselman-owned companies in 1985 as an associate at Ernst & Whinney in Fort Wayne, Ind., working in the Tax and Privately-Owned Emerging Business Group. He became the corporate tax and finance manager for the Muselman-owned companies in September 1988, and served as DRG CFO from 1995 to 2005.
Kitt was instrumental in the acquisitions that helped grow the publishing division dramatically since 1985.